You're invited to the Welcome to the Silicon Prairie Party, Oct. 22
As we focus on engaging and connecting the community this fall, we're partnering with UP Global on its upcoming UP America Summit, and today have details to share about the October event. The UP America Summit brings together an invited group of startup community leaders—Startup America Champions, Startup Weekend organizers, facilitators and more—from across North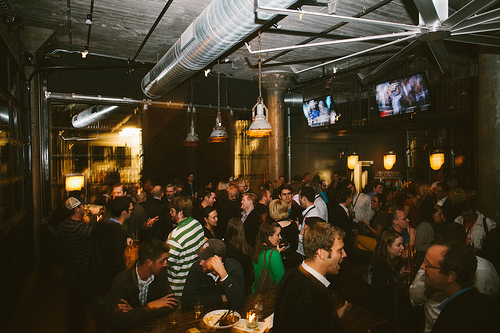 The Welcome to the Silicon Prairie Party is open to the public and happens during Creative Week 2013.
As we focus on engaging and connecting the community this fall, we're partnering with UP Global on its upcoming UP America Summit, and today have details to share about the October event.
The UP America Summit October 22–24 brings together an invited group of startup community leaders—Startup America Champions, Startup Weekend organizers, facilitators and more—from across North America to Iowa City and Cedar Rapids. Our role in this partnership will help introduce Summit visitors to what's happening in the state and our region, and we're hosting two events with the University of Iowa: Startup Stories and the Welcome to the Silicon Prairie Party.
The first event, Startup Stories, is a discussion for Iowa students where Summit attendees and founders from across the Silicon Prairie will tell their startup story in the round (founders can reach out to Regan Carrizales at regan@siliconprairienews.com about the opportunity). They'll share advice, provide tips on how to get started and spend time one-on-one with University of Iowa students. Immediately following Startup Stories, we'll kick off the Summit festivities with an open-to-the-public Silicon Prairie Party where startup enthusiasts from across the region are invited to connect with one another and to acquaint Summit attendees to our region.
Hosted by SPN and the University of Iowa
When: 6–11 p.m. Tuesday, Oct. 22

Where: Hotel Vetro (201 S. Linn St., Iowa City, IA 52240)

Who: UP America Summit participants and the entire startup community

Cost: Free
RSVP FOR THE SILICON PRAIRIE PARTY
The entire SPN team will make the trip to Iowa City and Cedar Rapids to participate in the Up America Summit and The Innovation Expo, a showcase of Iowa's top entrepreneurial talent. The Summit and Expo are part of Creative Week 2013, a festival of ideas, innovation and imagination in Iowa's Creative Corridor.
Credits: Photo by Anna Jones Photography.
Sign up to receive daily updates in your inbox.