Iowa State Fair hosts Iowa State University pitch competition
More than 200 Iowa State University student and alumni entrepreneurs representing 168 business ventures gathered to pitch their products and services as part of Iowa State University's exhibit in the Varied Industries Building at the Iowa State Fair. The event took place from August 8-18. Each pitch contestant competed for $1,000 to $5000 awards in the "Great Iowa State University STANDING innOVATION…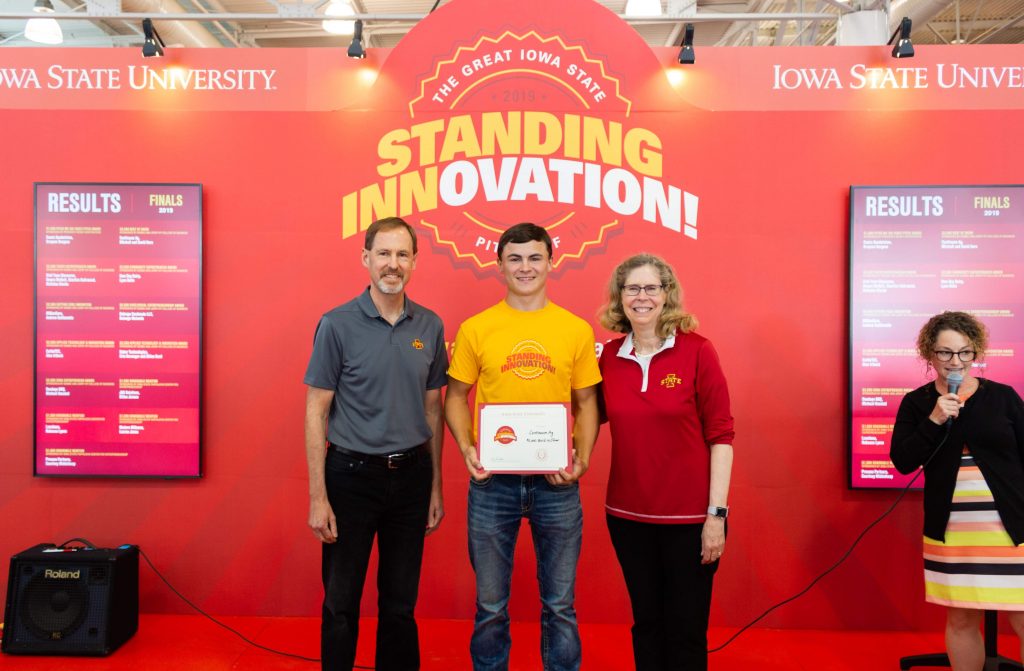 More than 200 Iowa State University student and alumni entrepreneurs representing 168 business ventures gathered to pitch their products and services as part of Iowa State University's exhibit in the Varied Industries Building at the Iowa State Fair. The event took place from August 8-18.
Each pitch contestant competed for $1,000 to $5000 awards in the "Great Iowa State University STANDING innOVATION Pitch-off" between 9:30 a.m. and 4:30 p.m. daily.
Karen Kerns, the President's Entrepreneur in Residence, spoke to the significance of the event which was to showcase the economic impact of these young innovators as contributors, employers and investors in Iowa.  "We are highlighting our student innovators and entrepreneurs at the State Fair because we want Iowans to witness, first-hand, what happens when they invest in our students and we provide the resources to support them."
Some of these businesses are operating out of incubators, garages, and dorm rooms.  Facing limitations and embracing challenges that unique to their age, experience, and income, these young innovators continue to achieve significant business milestones.  Kerns notes, "our student and alumni pioneers are currently generating revenue, providing jobs, recruiting millions of dollars in investment funding, solving community problems and generating products and services that impact industry and consumers."
The competition was structured in two rounds.  Round 1 featured 14 businesses daily competing for eight days.  Every hour, two innovators went head to head to win over fairgoers who were recruited to vote for their favorite business.  This gave fair-goers from ages four to 104 a hands-on opportunity to participate in Iowa State's drive to elevate, promote, and encourage student innovation and entrepreneurship.  More than 400 fairgoers voted daily for eight days to determine the fate of those 56 ventures that would progress to the semi-finals.
On days 9 and 10, the 56 finalists pitched their ideas in front of panels of judges, in pursuit of the prestigious Best of Show award, worth $5,000. Seven more businesses were selected as Category Winners, each worth $2,500 and four others were selected for Honorable Mentions worth $1,000. One online video pitch in the university's "PITCH ME ISU" was awarded the President's Choice, worth $1,000.
The $5,000 Best of Show award was announced by ISU President Wendy Wintersteen and Senior Vice President and Provost Jonathan Wickert on the last day of the fair during an awards ceremony at the exhibit.  The prize was awarded to Mitchell Hora and David Hora of Continuum Ag.
"The ISU pitch competition at the Iowa State Fair was an incredible opportunity for my brother and me to pitch together and spread our soil health message to a diverse array of fairgoers. We have to work as a united whole to improve our agricultural systems and Continuum Ag is excited to be a catalyst to accelerate the process!" said Mitchell Hora.
The Hora brothers' business, Continuum Ag, is a consulting and data management company with a focus on the health of soil. The company is based in Washington, Iowa. According to Mitchell, Continuum Ag will use the award money to fuel the construction of their soil analytics software, expand their team, and further go to market. Furthermore, Continuum Ag is raising funding and looking for connections to investors and marketplace partners. For more information about Continuum Ag, please visit https://continuumagllc.com
This year's state fair exhibit was an extension of the President's Innovation and Entrepreneurship Initiative, lead by President Wendy Wintersteen in conjunction with the Ivy College of Business and the Pappajohn Center for Entrepreneurship, University Extension and Outreach, University Library, and every ISU college.
The focus of the initiative is to provide students, alumni, faculty and staff with the necessary resources and support networks to spark innovation and entrepreneurial ventures.  "These students are our next generation of contributors and game changers," Kerns says.  "We are investing in them in response to their compelling ambition to be stewards of our environment, our communities, our economy, and our future.  We have gained incredible momentum in this effort.  Expect to see much more."
Provided below is the complete list of award winners:
$5,000 Best of Show: Continuum Ag (Mitchell Hora and David Hora)
$2,500 Youth Entrepreneur Award: Civil Teen Discourse (Owynn McNutt, Charlize DeArmond and Nicholas Stocks)
$2,500 Community Entrepreneur Award: New Day Dairy (Lynn Bolin)
$2,500 Applied Technology & Innovation Award: Haber Technologies (Eric Harweger and Dillon Hurd)
$2,500 Applied Technology & Innovation Award: CattleTEC (Alex Irlbeck)
$2,500 Civic/Social Entrepreneurship Award: Belange Handmade LLC (Belange Mutunda)
$2,500 Cutting Edge Innovation: NXGenCare (Andrew Guillamette)
$2,500 Iowa Entrepreneur Award: Deadeye BBQ (Michael Hanstad)
$1,000 President's Pitch Award: Comic Sandwiches by Grayson Burgess
$1,000 Honorable Mention: JAS Solutions by Dillion Jensen
$1,000 Honorable Mention: Lunchsox by Rebecca Lyons
$1,000 Honorable Mention: The Modern Milkman by Lauren Jones
$1,000 Honorable Mention: Process Partners by Courtney Middelkoop
Sign up to receive daily updates in your inbox.